Introduction
Housing is a long leading indicator for the economy overall; i.e., it typically peaks over a year before the economy does as a whole, and is also usually one of the first sectors to rebound during a recession.
Thursday morning's report on August new home sales certainly fit that mold.
Near-15-year high in new home sales is strong confirmation that the long leading housing sector has been surging
As I wrote last week, when housing starts and permits were reported, historically, interest rates have led housing sales and starts, which in turn lead prices, which in turn lead inventory.
Here's the updated look at mortgage interest rates since the beginning of 2011, measured YoY, vs. single-family housing permits (the least volatile metric), also measured YoY: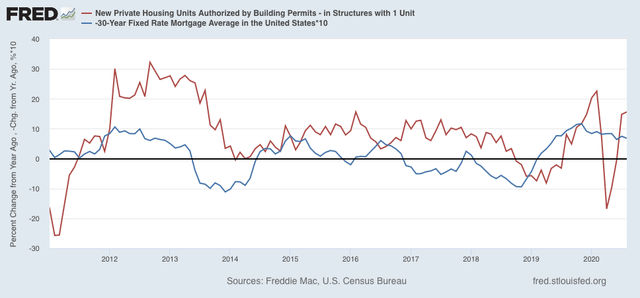 Thursday morning the Census Bureau reported new home sales for August. There are two important facts about new home sales:
1. They are the
…
Read More
Read more