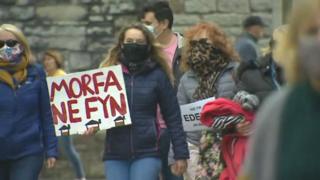 Activists who claim Gwynedd is facing a second homes "crisis" have marched 20 miles (32km) after a recent increase in house prices.
About 60 people marched from Nefyn, on the Llyn Peninsula, to Caernarfon on Saturday.
Nefyn Town Council said house prices in the area had gone "through the roof" in recent months.
The Welsh Government said it recognised the challenges around second homes and was monitoring the law closely.
Second-home owners 'leaving locals sofa-surfing'
Second-home owners 'use loophole' to claim grants
According to Gwynedd council's housing department, 811 new houses are needed each year to meet local demand, but 830 existing properties each year are being "lost" as second home.
Rhys Tudur, who sits on Nefyn Town Council, called on the Welsh Government to devolve
…
Read More
Read more