The EUR/CAD currency pair, which expresses the value of the euro in terms of the Canadian dollar, is currently trading in a relatively steady fashion following a significant rise versus the start of the year. In January 2020, EUR/CAD opened from the 1.45 handle; the pair is currently trading at the 1.55 handle.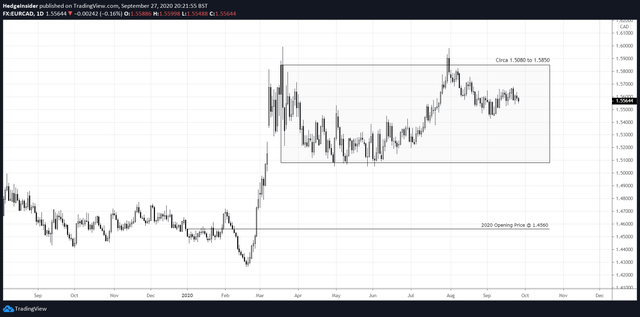 (Source: Trading View. The same applies to all subsequent candlestick charts presented hereafter.)
The significance of the wide departure is greater in broader context. For example, major FX pairs such as AUD/USD crashed significantly in the first quarter of 2020, and yet most recently they have made gains on the year (relative to the opening prices of January 2020). The fact that EUR is still trading firmly above this year's opening price provides us with confirmation that EUR/CAD is not ready to return to its previous trading range.
Probably the most important reason is that
…
Read More
Read more