Find out where the people are going and buy the land before they get there. – William Penn Adair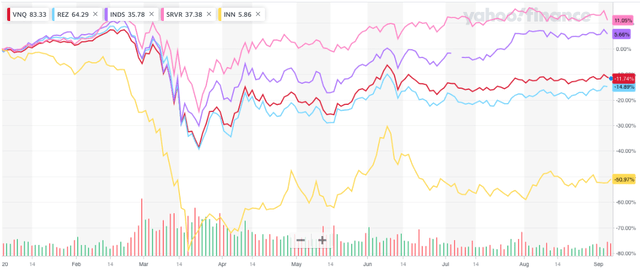 Owning property is often seen as a sure path to riches, but not all real estate is created equal. When it comes to REITs in this COVID-19 world, instead of "location, location, location", the important differentiator is the purpose of the buildings in a given location.
Vanguard's U.S. REIT (VNQ) – the red line here ­- holds various types of commercial property. Its YTD performance is not all that exciting, for good reason – it includes some sub-sectors in the REIT arena that have been slammed by the pandemic, such as Lodging/Hospitality (the yellow line, INN).
When we added an Airline ETF (JETS) to the chart, we were not all that surprised to see that Lodging/Hospitality and Airlines track each other fairly closely (while airlines are outperforming lodging, both are in
…
Read More
Read more