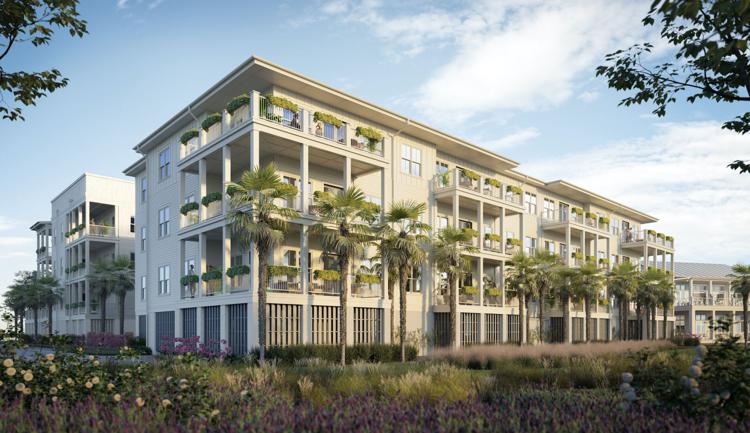 As we move to a "new normal," as many like to refer to our current COVID world, and once we are post-pandemic, multifamily living has a new focus. In both the leasing and buying of these dwellings, a shift is occurring.
Pre-pandemic, most multifamily renters and buyers wanted to live in the city. From young professionals to seniors, the appeal of living where one could work, walk, dine and have easy access to cultural venues and events was appealing. That appears to be changing as more people are leaving large cities to migrate to smaller ones or to the suburbs.
Charleston and its burbs are where many of those buyers are looking. Its less dense downtown population and nearby neighborhoods offer much to buyers who want "city life" without the crowds. Our landscapes and waterways, and weather that lends itself to outside office work – virtually – on a laptop is appealing. According to Global Workplace Analytics, 30 percent of the workforce will work from home multiple days a week by the end of 2021.
Buyers want affordability and more space in which to enjoy downtime, sans crowds.
According to a recent Forbes magazine article, the four key takeaways that the multifamily industry is addressing due to the pandemic are:
· Virtual tours of properties to buy or lease
· A shift from urban to suburban
· A pent-up demand for clean outdoor spaces and amenities
· New demands for interior living spaces (dedicated office spaces, larger units)
Multifamily residences, whether they are million-dollar properties or more modest abodes, are on the rise in both development and buyer demand. Depending on where one lives, buying is cheaper than renting. With record-low interest rates, multifamily means the best of many worlds. A piece of the American pie of homeownership and a sense of community.
The pandemic has brought about a global change and the need to address homeownership of all income levels.
"By acting today, leaders who are willing to pivot to meet new demands, will be able to best serve residents and ensure their own viability," Jason Morgan of Morgan Properties wrote in the July 2020 Forbes article.
Suburban, attainable multifamily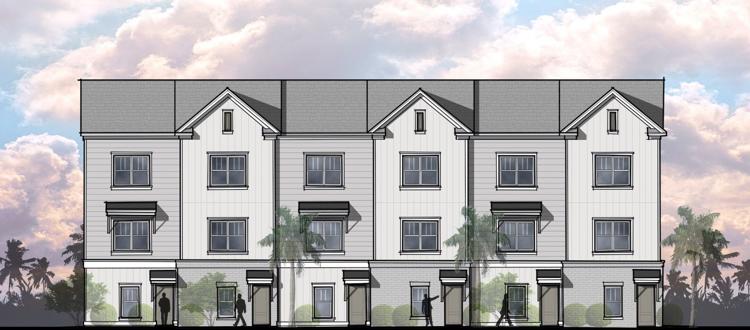 According to the Charleston Trident Association of Realtors' Housing Supply Overview of August 2020, the largest price gain was the condos/townhomes segment where prices increased 5.7 percent. There is currently a 2.2 month's supply for this type of home. Two-bedroom condos have realized a 7.4 percent increase from this time last year and three bedrooms, a 2.2 percent increase.
Mount Pleasant is one of Charleston County's most popular bedroom communities. Prices here have risen dramatically over the last decade, and rental prices have followed suit. According to RentJungle.com, rent for a two-bedroom apartment averages $1517 a month – that's a 4.09 percent increase from last year. Over the past six months, one-bedroom rentals have increased 14.2 percent to around $1322 a month.
Upper Mount Pleasant still maintains somewhat of rural feel, with proximity to shopping and the beaches. A 20-minute drive gets you to downtown Charleston. Many people commute to Mount Pleasant, including teachers, police officers, firefighters and healthcare workers. For some of this demographic of the workforce, home ownership in Mount Pleasant has been out of reach.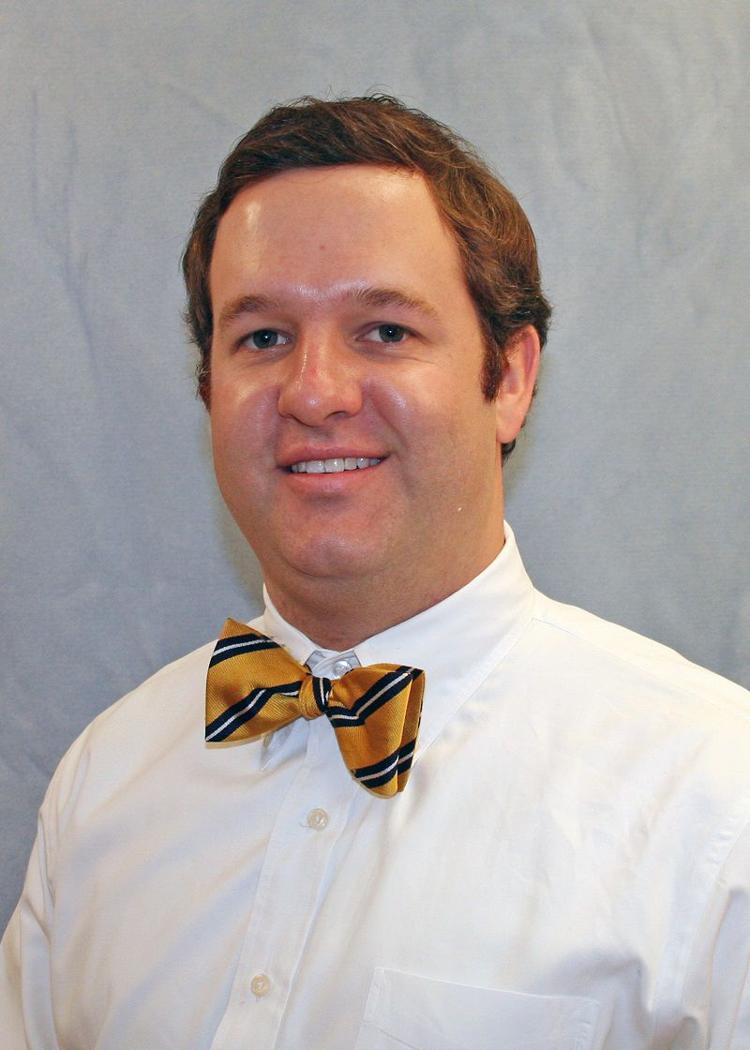 "Seventy percent of people who work in Mount Pleasant do not live in Mount Pleasant," said Will Jenkinson of Carolina One New Homes. "Most of the workforce who lives here are renting, so they are paying an astronomical amount of rent."
To address that issue, developers Prosperity Builders and Mount Pleasant Housing for All, is bringing new, attainable pricing in the form of 36 townhomes, "Gregorie Ferry Towns."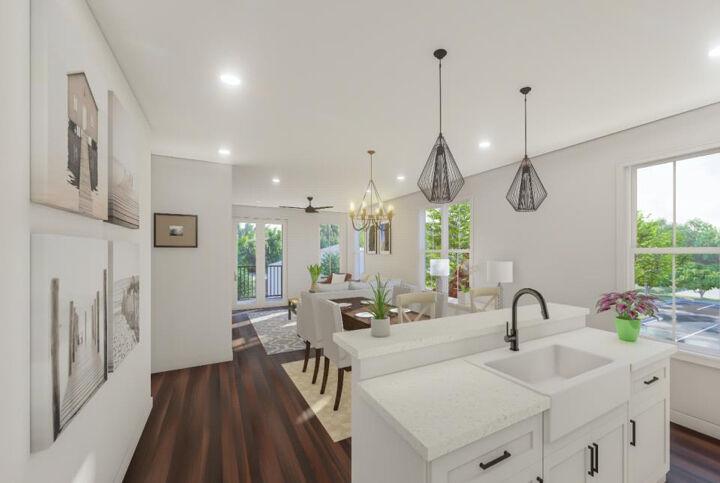 Carolina One New Homes is the exclusive marketer of the two- and three-bedroom townhomes, priced from $249,900 to $269,000. They range in size from 1,106 to 1,254 square feet. Pre-selling of the first phase (two buildings of 12) is underway now. Jenkinson said that three sold during the "first true week of sales" and there are several prospects going through the approval process to go under contract. One of those buyers was a Mount Pleasant teacher.
"This property is going to be deed-restricted for 75 years," he said. "A homeowner must not make over $64,800."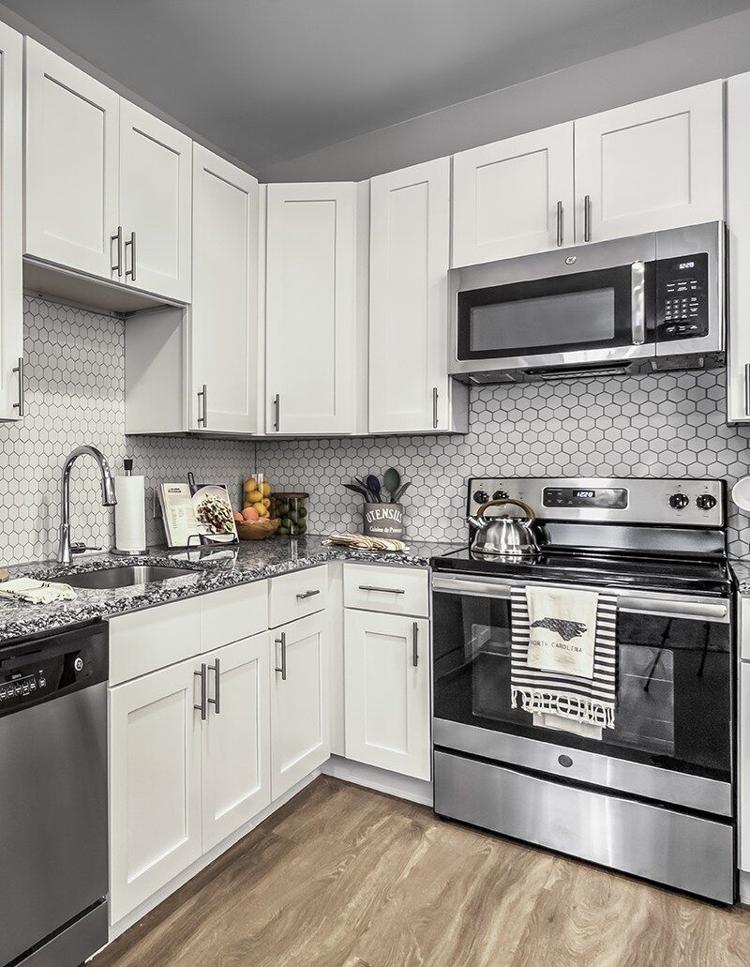 That figure is the current average median income (AMI). Jenkinson said that 80 percent of the AMI is at that income level for Charleston County this year. The AMI is based on annual updates that usually are posted in June. A buyer at Gregorie Ferry Towns must fall into that ratio of income and qualify for a mortgage.
"This mid-$200,000 price range is where we have focused," Jenkinson stated. "You can't buy with the intent of renting, but say your life situation changes, you can keep it and rent it, but those people also must meet the qualifications of the current AMI."
Expectations are that along with the improvement along Highway 41 to ease traffic problems, Winnowing Way, where the townhomes are located, is expected to be widened to four lanes in the future. Jenkinson said that according to several traffic studies, traffic will actually be decreased by building this residential community. Initially, the site was slated for a 24,000 square foot office building.
"People who educate our kids and protect us should be able to live here (Mount Pleasant)," said Jenkinson. "Nurses, teachers, civil servants of our town, managers and employees of local stores and businesses…think of the ripple effect. If these people are driving from Hanahan, North Charleston or Goose Creek, think of what that will do for their quality of life."
Jenkinson said that plans are for construction to begin in early 2021 with the first buildings completed in May or June 2021. "We hope to emulate this, looking at other sites of the region. We want to replicate this because there are more than 36 people who need this," he said.
Development of a new Summerville townhome community, Crescent Cove is underway which will offer buyers GreenSmart Home Energy and automation features such as tankless gas water heaters, programmable thermostats, low VOC paint and carpet and Bluetooth speakers in kitchens. Sixty-two homesites will make up the community located on Orangeburg Road near the intersection of the Dorchester Road corridor and Hwy 17A. Prices begin in the low $200,000s.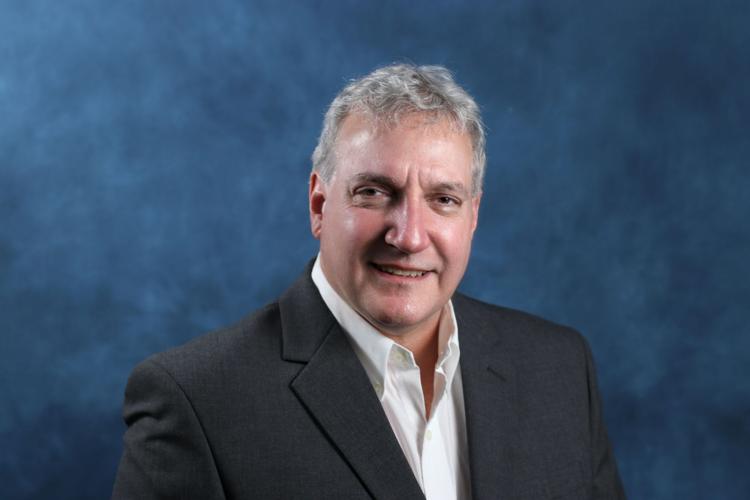 "These homes are close to Summerville High School and The Pond's YMCA," said Mark Godwin of Great Southern Builders. "There will be two floorplans and they range from 1,492 square feet to 1,892 square feet."
In Goose Creek, Rolina Homes is beginning construction on eight townhomes within two separate buildings in Coker's Common. Generously sized at 1,510 to 1,660 square feet, prices start at $215,990. Presently, Crescent Homes has 43 townhomes and Phase 1 of the townhome community was completed a few years ago, according to Kendra Boozer of Rolina Homes. Located at 221 Kirkland Street, residents have easy access to groceries, schools and restaurants. Boozer said that two of Rolina's townhomes just became available for sale.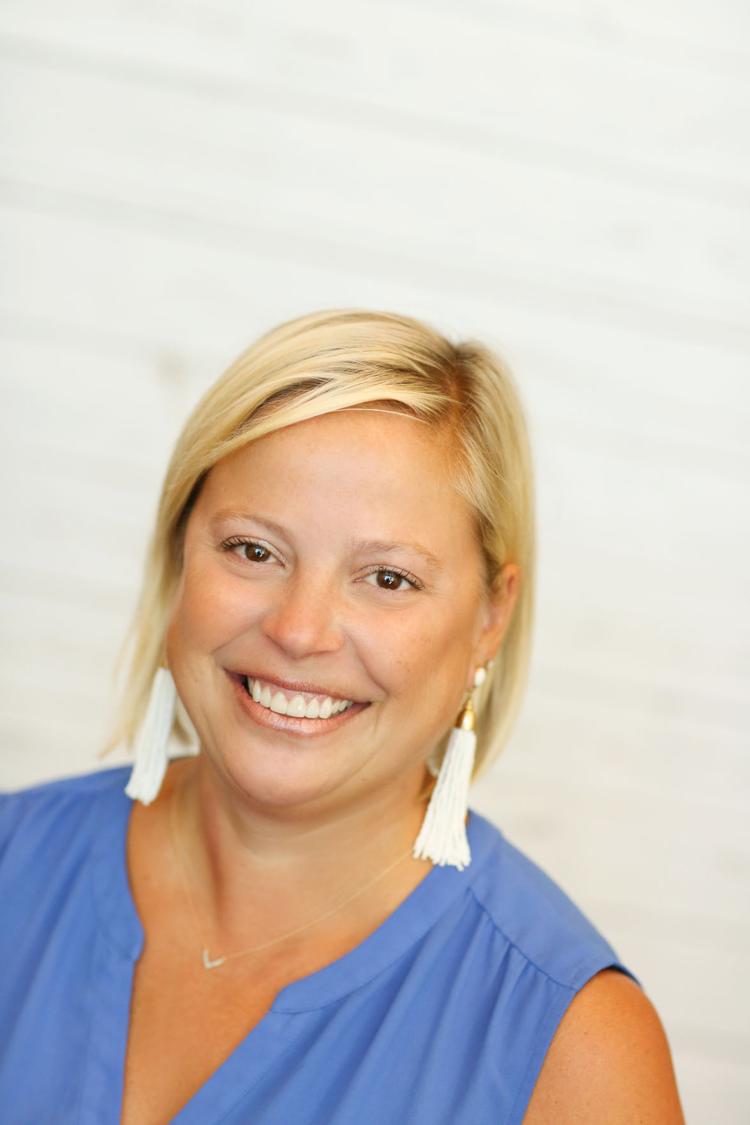 "All of the newly constructed Rolina townhomes have garages, the kitchens have islands, and the master bedrooms have vaulted ceilings," she said. "They all have back patios and we're offering $5,000 in closing costs when buyers use our participating lender and closing attorney."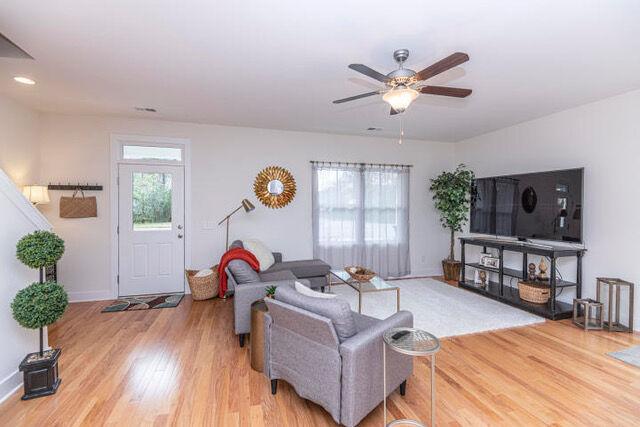 The townhomes are expected to be fully completed by December 2020 or January 2021.
Downtown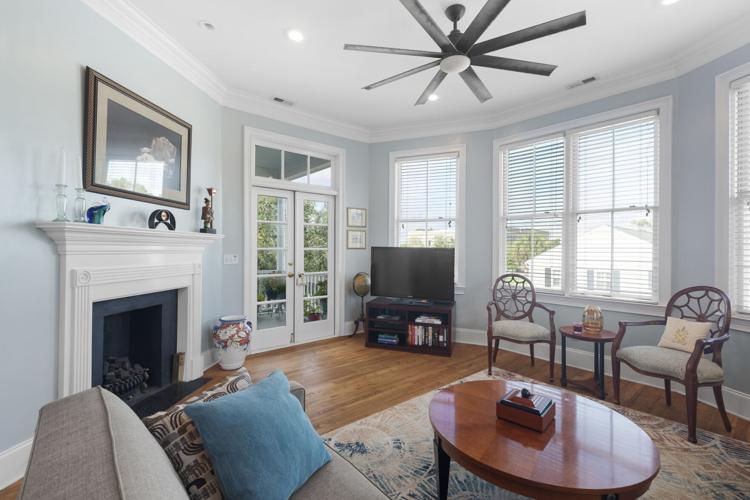 "We are seeing lots of demand for properties – townhomes and condos included," said Georgia Bell of William Means Real Estate. "Many people are moving here from big cities in the Northeast and other parts of the country. They are accustomed to apartment and condo living, more so than we have been here."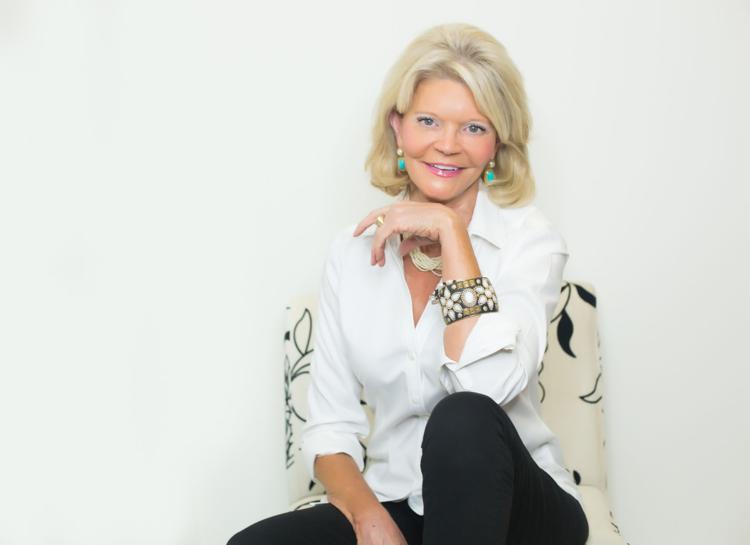 Bell said these buyers want a place that requires little maintenance, and some are looking for a "city place" as well as a "country place."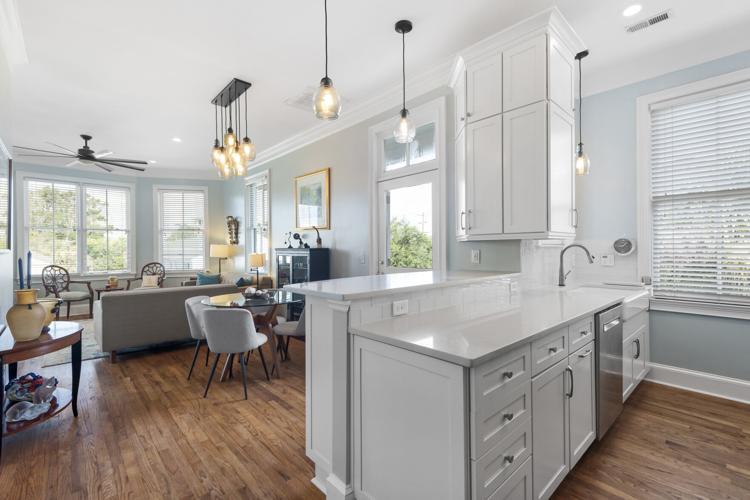 "Our condos and townhomes really fit the bill," she said. "There is much more to offer buyers and renters now than in the past. We have several options on the peninsula now that are being completed with retail and restaurants on the first floor and apartments on the upper floor."
One of those new options is coming in the winter of this year, The Jasper will offer luxury apartments for lease with amenities such as electric car charging stations, a 3,000 square foot fitness club and views of the city from its rooftop pool and community garden space. On the western end of Broad Street, the location is in the historic district. According to Apartments.com, rent will range from $1,600 for a studio apartment to over $12,000 a month for a 1,978 to 2,040 square foot residence. The 12-story building will have office space, retail and dining on its lower level. Developed by the Beach Company, it will have 219 luxury rentals.
Bell said that prices for living on the peninsula fall within a wide swath – from $500,000s to several million dollars, and it's all about amenities. A buyer is going to pay more for amenities such as a community clubhouse, pool and shared spaces. Some of these types of properties offer fewer amenities but, as Bell puts it, a "little more solitude."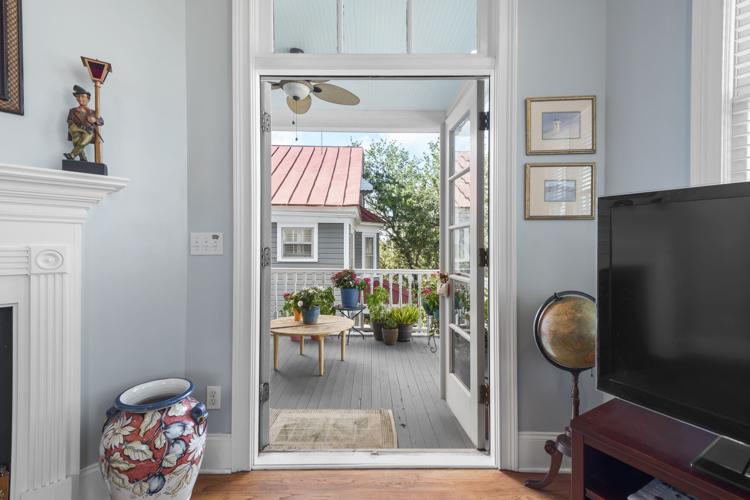 Her listing at 38 Ashly Avenue, Unit B is a condo property that has a spacious porch that overlooks Horselot Park. The neighborhood park, open from dawn to dusk, is located on Chisolm Street. A large grassy field, residents gather here to play soccer or bring their four-legged pals to congregate.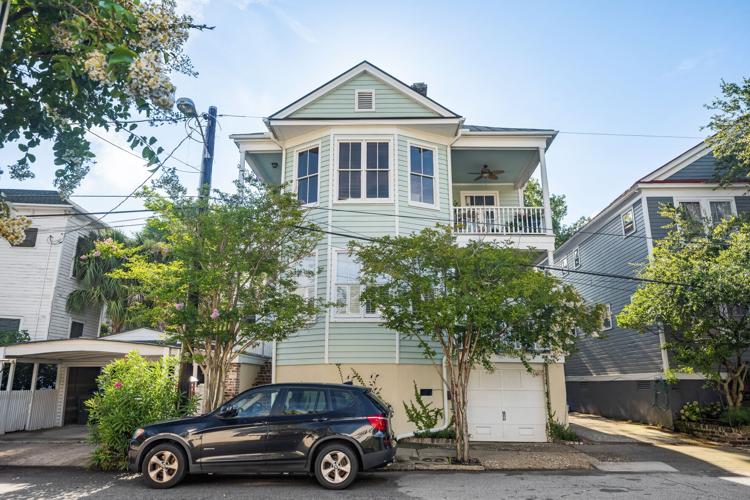 "Neighbors and friends bring their dogs during the day and especially for 'yappy' hour in the late afternoon," she said. "The home has another piazza on the opposite side of the living area that faces Broad Street and has a lovely view of Colonial Lake. You have views of all of the activities that go on, and if you want to join in, you only have to cross the street."
Located in the premier location of South of Broad, the beautifully renovated condo is one of three condominium homes within the 1910 building. Unit B is a second story home with three bedrooms, two baths, high ceilings and 1,396 square feet. Priced at $640,000, it fits the bill for those who want city living amenities – walking distance to King Street, The Battery and Broad Street — with a bit more privacy.
"The wow factor, along with the fabulous views and location of this home, is the new kitchen," said Bell. "It's light and airy – tons of natural light with new appliances and plenty of storage. It's a chef's dream."
Daniel Island
Developers East West Partners began in 2,000. A local team with a tradition of building "best-in-class communities," their portfolio of projects in the Lowcountry includes The Tides and Tides IV in Mount Pleasant, The Gadsden, One Vendue and 71 Wentworth downtown and now, The Waterfront on Daniel Island. Miller Harper, Managing Partner of the company, revealed that they are also in the early development stage of an upcoming project on Kiawah Island.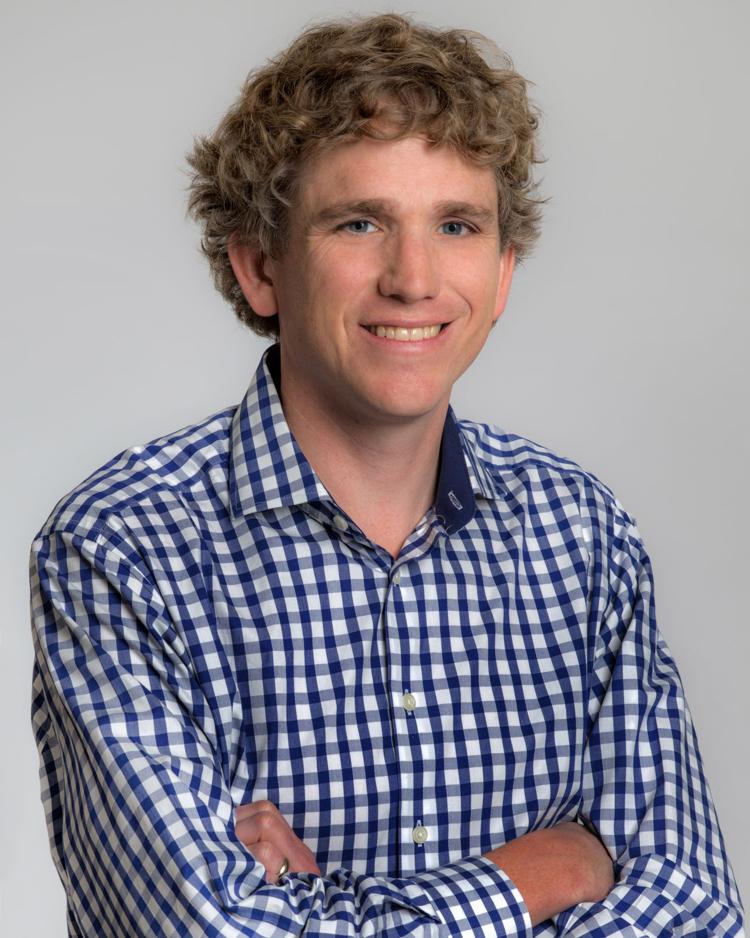 "The Waterfront on Daniel Island is a 22-acre, mixed-use community featuring luxury condominiums and townhomes," said Harper. "Located at the intersection of River Landing Drive and the Wando River, the community will have first-class amenities."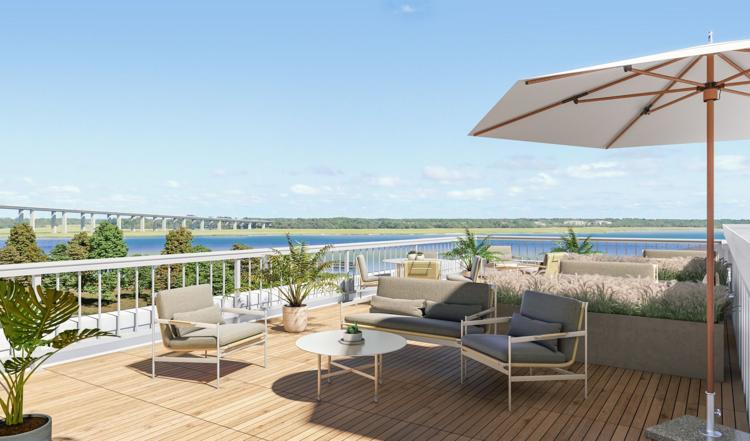 The Waterfront will be a five-phase community. A mix of condos and townhomes, prices range from the low $500,000s to just below $2 million. The Heron condos are waterfront. The Egret and Osprey condos range in size from 1,025 to 3,500 square feet with pricing from the high $400,000s to $1.8 million, Harper said.
Thirteen townhomes, the Sandpiper and Kingfisher have four levels of indoor and outdoor living space and average 3,500 square feet. Priced from $1.4 to $1.8 million, each has a two-car garage.
"In addition to three levels of living space, the townhomes have a fourth rooftop floor," Miller explained. "The primary living spaces are on the second floor and the third floor has an additional den with access to a private terrace."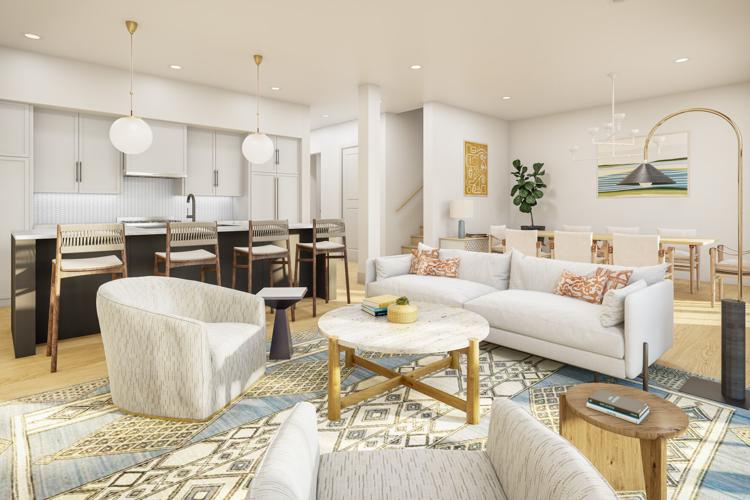 Phase 1 should be complete "in totality" by summer of 2021 according to Harper. It will include 58 residences – both condos and townhomes. Sixteen of them are already under contract and those residents will be able to move in by the end of 2020.
"The first residents will move into a complete community with all community amenities," Harper said.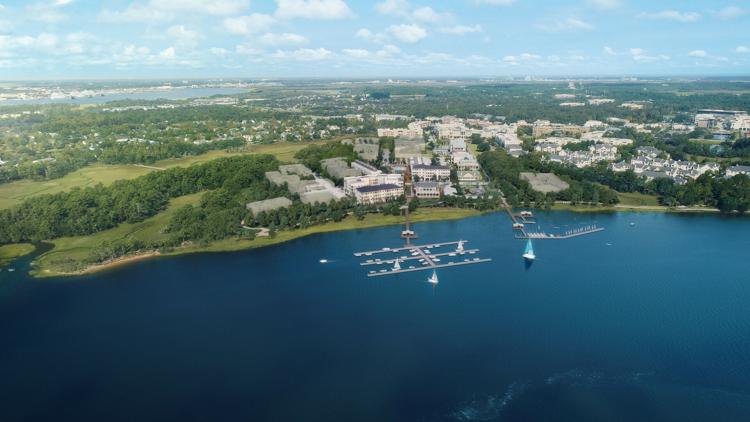 Those amenities include direct access to the Daniel Island Yacht Club, the newly designed waterfront park with two docks, an interactive fountain, "hammock garden," and plenty of park and play space for families. Private amenities include a pool, fitness center, community outdoor area and access to a boathouse for kayak and paddleboard storage. With nearby walking trails and a waterfront restaurant with rooftop bar and "grab-and-go gourmet" options, residents can dine in or take a picnic along any number of common and picturesque green spaces.
"Two local interior designers with national recognition, Cortney Bishop Design and Jenny Keenan Design, merged Lowcountry flavor with contemporary design," Miller added. "The result is warm, welcoming interiors and common spaces."
***
ONLINE: To view more photos, visit www.postandcourier.com/real_estate.
Contact Brigitte Surette at [email protected]