The number of Louisiana homeowners late on their mortgage payments remains stubbornly high and the state is still second in the nation for that metric as of August — as it was in June just three months into the economic disruptions resulting from shutdowns to slow the spread of coronavirus.
More than 11.2% of home mortgages in the state were past-due on payments or in delinquency as of August, up from 7.7% the same time last year and higher than last month's national average of 7.27%, according to data from Black Knight, a Florida-based publicly traded technology business with access to loan-level data from some of the largest mortgage service companies.
Coming off a brief, slight decline in July, the 11.2% August rate is roughly the same as in June after furloughs and layoffs took their toll on homeowner finances, data shows. The percentage rate is about 56% higher than before the pandemic.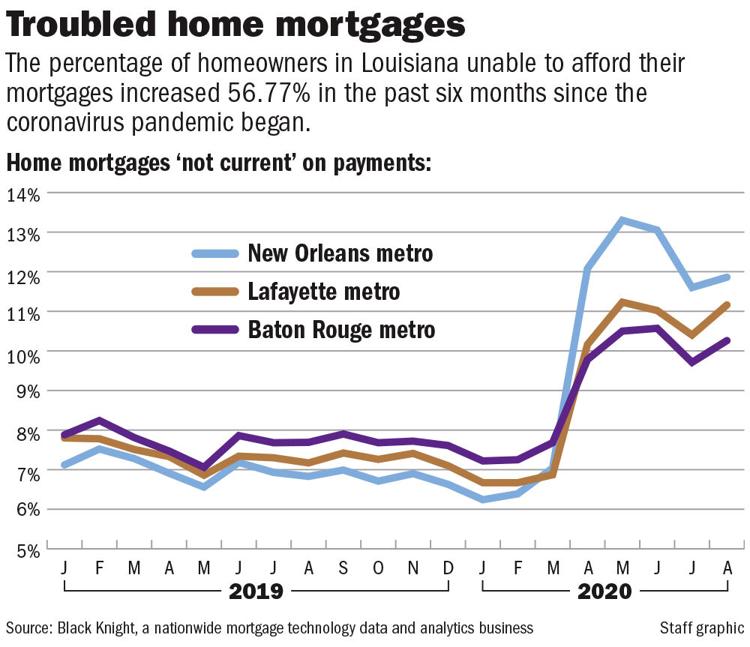 Delinquency in home mortgages does not mean that homeowners are being evicted and the bank is foreclosing on the home. Many homeowners are in forbearance, which means they can't afford to make payments for a set amount of time.  
Delinquency for more than 90 days, typically 180 days, is when a lender may decide to foreclose on a property. However, there are some laws in place this year prohibiting foreclosures across the country because of the strain on people's finances during the pandemic.
Often times the homeowners also are able to negotiate a plan with their lender to spread catch-up payments over the life of their loan or add payments to the end. Some potentially get hit with a lump-sum payment of past-due notes at the end of forbearance. 
With foreclosure restrictions in place, the foreclosure rate in Louisiana was 0.58% in August, down from 0.86% in August 2019, data shows. By comparison, last month the U.S. foreclosure rate was only 0.36%. 
In Baton Rouge, about 10.3% of home mortgages are behind on payments, either in forbearance, 90 days delinquent or in foreclosure. In Lafayette, 11.3% of homeowners are in the same situation and in New Orleans 11.9%. Those rates in June were 10.6% in Baton Rouge, 11% in Lafayette and 13% in New Orleans.
Last year during August, those behind on home mortgages in Baton Rouge, Lafayette and New Orleans were 7.7%, 7.2% and 6.8%, respectively. 
The foreclosure rate in each those three metro markets has improved since last August and remain less than 1% of the home mortgages in the overall portfolio. The foreclosure rate in Baton Rouge was the highest as of August, at 0.61% followed by 0.52% in New Orleans and 0.45% in Lafayette, data shows. 
Unemployment plays a major factor in home mortgage delinquencies, not just traditional unemployment but also self-employed individuals. 
Mortgage underwriters in Louisiana previously saw small-business owners unable to keep their doors open because of state and parish-level restrictions meant to keep the coronavirus at bay. There has been a trickle-down effect as service business owners, who may cater to companies in hospitality and tourism, falter on their own home mortgages as do employees of those businesses. 
In August, there were roughly 300,000 Louisiana residents on the traditional unemployment rolls, which has subsided to about 221,100 residents as of mid-September, according to Louisiana Workforce Commission data. There were still 53,555 people in accommodation and food services out of a job as of Sept. 19, the data shows. There was another 152,100 workers getting federal unemployment assistance tied to the pandemic in August, which has dropped to 134,300 in mid-September.
A federal add-on of unemployment benefit payments to state benefits for jobless workers has ended, with Congress continuing to debate additional stimulus package to support the U.S. economy.
Since August, the state has entered Phase 3 of the coronavirus pandemic restrictions, and in some parishes which meet Louisiana Department of Health requirements even bars are allowed to reopen with capacity and other restrictions.