Recruitment & HR
How do you fix a problem like recruitment?
It's a question which Mo Isap, CEO of IN4 Group, has been keen to answer for some time now.
Isap is a larger-than-life figure whose group took over the operation of tech hub The Landing, based in MediaCity in Salford, in 2020. In the 18 months since, the rebranded HOST – the Home of Skills & Technology – has built a number of eye-catching industry partnerships, including a Centre of Excellence with Unity, the Silicon Valley-based games development engine giant.
"Four years ago I brought IN4 Group to market. There are three tenets to our blueprint: skills and talent, startup growth and innovation support for businesses," he explains to BusinessCloud. "We create demand by helping companies digitalise, we start new companies to accelerate and then we feed in the talent. 
"As you speak to different people over time, the blueprint evolves: you get to understand the market, how it's going, where it's moving. But as a consumer of recruiters and recruitment agencies, I've always seen that sector for what it is – a 'money for old rope' operation. There's no loyalty there; there's no real commitment to help companies to reshape their workforce, bring in diversity. It's about making a sale, charging 15 grand for it and moving on. There's no relationship or investment into understanding the company. It's just a sales team driven by targets. It's a boiler room.
"If somebody comes in for a £50,000 salary now, six months later, somebody else will knock on the door and recycle them to another company. This is why businesses are struggling to keep their talent. We want to do away with that model."
His answer was to launch IN4 Talent as a joint venture with Langham Recruitment, a specialist technology and engineering agency which works with FTSE 100 PLCs and established players in the advanced manufacturing sector.
Isap describes IN4 Talent as a "significant cog" within his organisation's turnkey solution on talent and development. The overall picture takes in Skills City, which has been the recipient of £1.2 million of Department for Education funding to deliver Skills Bootcamps and has pledged to fast-track 450 people every year into technology careers; accelerated apprenticeships with global training organisation Raytheon Professional Services; direct recruitment of mid-to-senior-level tech talent to fill immediate roles; and internal bootcamps to upskill staff.
"We want to retain clients who come to us on a holistic basis: we're disrupting the market as a talent growth partner," he says. 
"Companies can work with us on future-proofing their talent needs, because we're providing them with entry-level talent from Skills City; but we can also say to our clients, 'look, we know you have a burning need for talent today as well'. If they are developing talent for the future, they don't have to go to a recruitment company in the meantime and pay more for the same recycled talent, which is a zero sum game right now: recruiters are poaching from the same pool of people.
"It ensures that you can continue growing your business and driving your operation successfully knowing that, in two or three years' time, you're going to have an organic pool of people ready for you."
Langham was already partnered with The Landing when IN4 took over its operation. "It was a natural conversation for us to have," says Isap, who features on our Top 50 North West Tech Transformers list for 2022. "As we're feeding into the tech community, it's a no-brainer for us to offer a talent solution to that scaling, fast-growing digital economy. IN4 Talent was the missing piece in our jigsaw."

Andy Almond, director at Langham and IN4 Talent, leads the joint venture's day-to-day operations. "We are building a talent ecosystem," is how he puts it. "IN4 was the missing piece of that ecosystem: it took the mid-to-senior-level hiring that we were already doing and allowed us to go out and offer our clients a full suite of services. 
"Our customers now realise we're not going to just fill a vacancy for them: they can partner with us on a long-term basis. If they need to skill people into their organisation with a particular qualification, we can plug them into the Unity Centre of Excellence; put them into a particular bootcamp; or have the bootcampers develop the products for them as a project then allow them to cherry pick the talent they want from there. They could partner with us on the curriculum; or join one of the innovation programmes at HOST which gets them more investor-ready.
"They realise we can do more than place a great candidate to a job."
Almond agrees that the general recruitment market is broken. "We will never work with a customer who says: 'We're looking to hire six people, send some CVs over.' That's what 90% of the recruitment sector does, but it's just not what IN4 Talent does.
"Most of our relationships are with founders or with the C-suite within a business. They come to us with a business challenge around growth and innovation: it might be 'we're going through our second round of investment, we want to bring our development in-house because we use a third-party provider… how can we actually go about doing that?' We start by looking at the business strategy, their future market direction, the new technologies they might be looking to implement, and work it back from there. 
"They don't always know what they need. Often, there is a lot of work needed around defining the roles within an organisation: looking at structure, the seniority of the people that they need to bring in, whether it's a permanent or temporary role. What you often find is that people missing skills in their organisation think they need to find them on a permanent basis – but those specialist skills might be for a short period of time, and then the role becomes more 'business as usual'. So a contingent workforce, a more flexible model, might be better for them."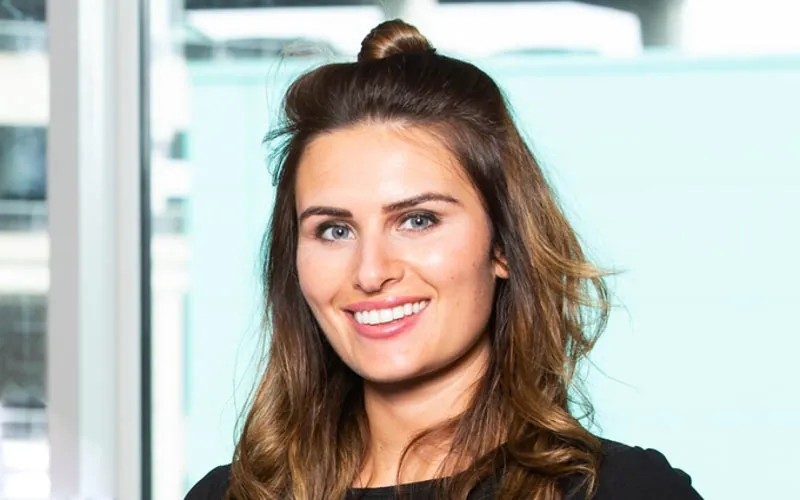 Chloe Barrett is the founder and CEO of Immersify Education, a startup which harnesses cutting-edge technologies such as augmented reality, interactive animation and gamification to boost learning and development within sectors such as dentistry.
Formerly based at The Landing and now in Manchester, the startup sees IN4 Talent as a growth partner. "I was looking for somebody to support our recruitment because it's very time-consuming," she tells BusinessCloud. "Finding the right people is so, so important – people help you build.
"I met Andy [Almond] and felt like it was a good fit: they were a startup like us and also growing, while within the team they had a number of people who were very experienced, building and connecting within that tech area. 
"Our head of development came from IN4 Talent. We had to make sure we found the right candidate because it was really important that [my co-founder and CTO] Max [Boardman] could hand off some of the development work and bring on people with specialist skills to supplement what he can do. 
"As we were bringing in investment, we were looking for support in growing the team: IN4 have been efficient and we like working with them. We're building a good relationship."
Barrett says Immersify has retained its prized development talent thanks to a positive work culture and share schemes which give staff access to equity in the company. "We're growing and don't have the same budget as a corporate would have, which could pay probably triple the amount," she acknowledges.
"It's important that we retain our staff: once we find great team members, we want to keep them."
Isap says younger generations of talent are looking for more than salary when considering their next role. "The people that we will nurture and develop don't just want the big salary that comes with working for a corporate machine," he says. "They want to do something of worth, develop their careers and ultimately pay it forward.
"Larger scaling tech companies are now founded by the Millennial or Gen Z generations anyway. The problem those tech entrepreneurs have is they get investment and have to recruit quickly, but they've never employed so many people. 
"We can support them on that growth journey and help them succeed."