The EUR/CAD currency pair, which expresses the value of the euro in terms of the Canadian dollar, is currently trading in a relatively steady fashion following a significant rise versus the start of the year. In January 2020, EUR/CAD opened from the 1.45 handle; the pair is currently trading at the 1.55 handle.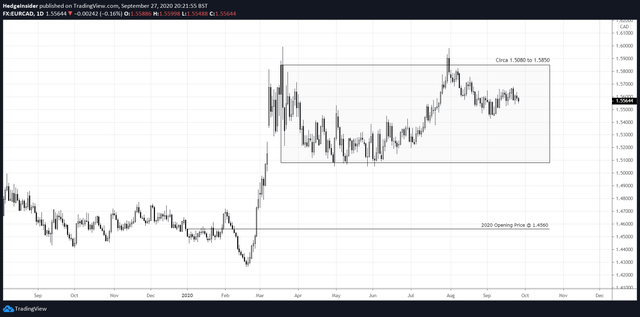 (Source: Trading View. The same applies to all subsequent candlestick charts presented hereafter.)
The significance of the wide departure is greater in broader context. For example, major FX pairs such as AUD/USD crashed significantly in the first quarter of 2020, and yet most recently they have made gains on the year (relative to the opening prices of January 2020). The fact that EUR is still trading firmly above this year's opening price provides us with confirmation that EUR/CAD is not ready to return to its previous trading range.
Probably the most important reason is that oil markets have tumbled in 2020. Risk-on currency pairs such as AUD/USD collapsed alongside risk sentiment earlier this year, but with risk sentiment returning together with heavy monetary interventions from the U.S. Federal Reserve (with other central banks following), the safe-haven and even status-quo value of the U.S. dollar collapsed. With oil prices also still lower from where they began prior to the COVID-19 pandemic, AUD has benefited (given that Australia is a net-importer of crude products). CAD has suffered, as the Oil & Gas industry represents a significant portion of Canadian GDP (the energy sector as a whole represents around 10% of Canada's GDP).
Therefore, unless oil prices shoot higher, it is unlikely that EUR/CAD will be trailing back down to its previous trading range. Because commodity prices move cyclically, it is probable that at some point we will see EUR/CAD trailing lower in this way. Yet for now it is difficult to see this develop. It is indeed the case that the cure for low prices is usually low prices; lower prices produce down-scaling of operations and/or corporate insolvencies/bankruptcies, which reduces supplies and therefore tightens prices over the longer term. These rebounds are particularly strong when they coincide with broader economic booms that also strengthen the demand side. Timing is still tough, though.
I am reminded of Blackstone CEO Stephen Schwarzman publicly noting the attractiveness of the crude oil sector in Q1 2015, immediately following the late-2014 oil price crash. Having made his statement in March 2015, crude oil spiked 25% the following month in April 2015, yet lower lows were found months later. By January 2016, crude oil was trading between 30 and 40% lower than March 2015 prices. Still, to Schwarzman's credit, the sector did eventually rebound through to late-2018, until another price shock led to a lower trading range, and then the crash which occurred this year. This year, of course, we saw negative crude oil prices (on front-month contracts).
The phrase "this time is different" is usually used ironically, to poke fun at those who do not show a willingness to learn from history. However, negative crude prices makes 'this time' genuinely different; we have never encountered this kind of oil market before.
To count on this being a cyclical low is risky, and as such the shares of the major Oil & Gas companies like Royal Dutch Shell (RDS.A) and BP (BP) are continuing to languish. CAD FX pairs are not necessarily fast-responding to changes in oil markets, but without making predictions of where oil prices are going next, we should keep an eye on crude oil prices as CAD does tend to correlate positively with them. Currently, WTI crude oil is trading in a relatively stable fashion around the $41/barrel mark (see chart below, which includes the "pre-COVID" trading range with a midpoint of $55/barrel).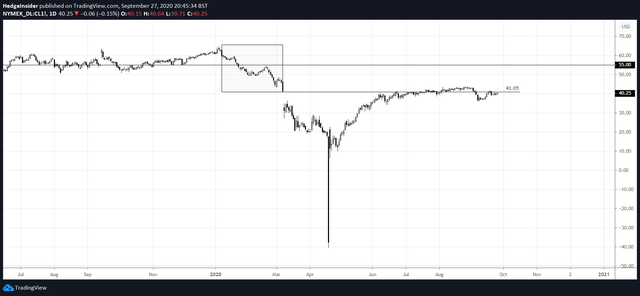 Crude might drop significantly again on negative surprises. Yet since governments seem less supportive of another round of significant lock-down measures, it would seem that both governments and the public now share a greater readiness to "learn to live" with the virus. Strategies have evolved to try to inhibit the spread of the virus and enhance track-and-trace programs, while allowing certain businesses such as restaurants and hotels to open so long as they take the necessary precautions. What I see is a gradual return to a social landscape that would appear similar to what we were used to at the very start of the year, although work-from-home policies are likely to remain popular, perhaps even until the end of the winter season (March 2021).
Global oil demand may or may not return to its previous baseline, but I think the current outlook would at least support oil price stability from these levels. CAD is therefore likely to hold up a stronger fight against the euro, even if EUR/CAD continues to strengthen. However, it is not prudent to sound as optimistic as Schwarzman did in 2015, Canada's terms of trade (the ratio of its export prices to import prices) has been trending downward since 2015, making new lows this year as oil prices tumbled.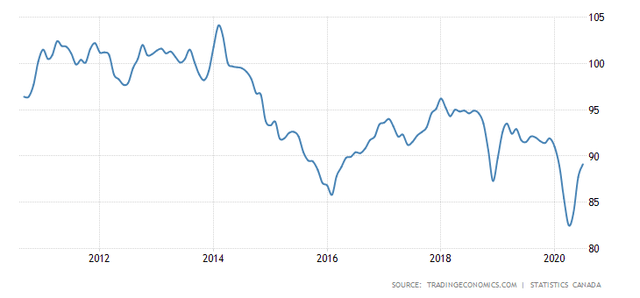 (Source: Trading Economics)
The euro area, meanwhile, is a net-beneficiary of lower oil prices, since it is a net-importer of crude products. Germany is one of the largest net-importers of oil, and it is the largest country within the euro area. Germany's terms of trade have surged this year.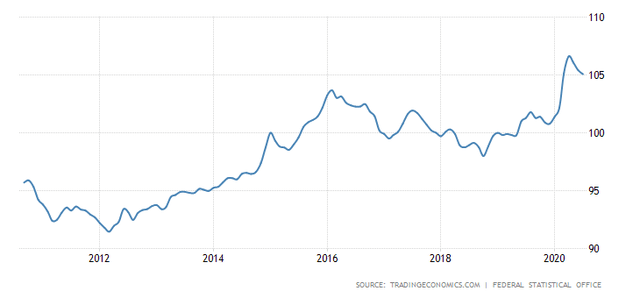 (Source: Trading Economics)
Canadian interest rates have also been slashed this year, from +1.75% (the highest rate in G10 FX at the start of the year) to just +0.25% (mostly aligned with the U.S. Federal Reserve, which has a target rate of 0.00-0.25%). The European Central Bank, meanwhile, has kept its negative deposit facility rate unchanged at -0.50% (although shorter-term German bunds, Europe's preferred safe haven, continues to trade at even lower yields). Therefore, while EUR rates are still extremely low, the directional change in EUR/CAD spreads this year (across FX funding markets) clearly favors the euro.
Euro area inflation remains low, close to zero and flirting with deflation (negative inflation), while Canadian year-over-year inflation rates also flirted with deflation earlier this year but otherwise remain low. At the start of the year, the annual inflation rate in Canada was 2.4% (January 2020), while the Bank of Canada's short-term interest rate was +1.75%. Therefore, the inflation-adjusted yield (i.e., the "real yield") was negative 65 basis points. More recently, the real yield (as of August 2020) comes out at a positive rate of 15 basis points. Meanwhile, EUR's real yield (in this case, based on the ECB deposit facility rate) has moved from negative 190 basis points to negative 30 basis points.
Therefore, EUR's implied real yield (if we use the ECB rate as a fair starting point for funding market rates) has improved by 160 basis points (or 1.6%), while the Canadian real yield has improved by 80 basis points (or 0.8%). So, technically the real yield for EUR (using our simple but fair proxies) has risen by twice as much as the CAD comparable (again, relative to January 2020). Should oil markets remain relatively stable (say, between $30 and $50/barrel, averaging close to the current levels of $40/barrel), EUR/CAD terms of trade differentials should continue to broadly favor EUR over CAD, and inflation rates in these two countries are likely to remain similarly stable. Without a significant boost across oil markets over the medium term, Canadian inflation is unlikely to take off.
Therefore, my base case remains in a drift higher for EUR/CAD. That is, even if oil markets do remain stable over the medium term. Stable oil markets will help to provide CAD with some degree of support (at least, they will prevent another significant draw-down). Yet lower baseline levels for the time being will help to keep CAD inflation rates down to levels that better resemble the euro area than a significant commodity exporter. With real yields favoring upside in EUR/CAD, and weaker USD demand also seeming to favoring EUR (the second-most popular reserve currency after USD), CAD will struggle to pull the euro back down to its 2020 opening price.
I will finish by also introducing a Purchasing Power Parity model based on OECD data. The OECD model implies EUR/CAD fair value in 2019 at 1.69 (as illustrated by the central red line in the chart below). This fair value has been trending up over the years, and we might see another rise for 2020 when the next data point is published.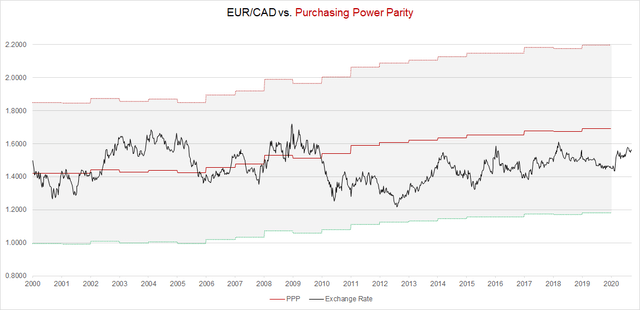 (Sources: OECD and Investing.com)
Yet in any case, it would seem that EUR/CAD is still probably modestly undervalued at present, and I would suspect there is a reasonable chance that EUR/CAD attempts to revisit the highs of 2018, above the 1.60 handle. This perspective supports my overall estimation of EUR/CAD; perhaps caution is warranted, but I take a generally bullish view on this pair.
Disclosure: I/we have no positions in any stocks mentioned, and no plans to initiate any positions within the next 72 hours. I wrote this article myself, and it expresses my own opinions. I am not receiving compensation for it (other than from Seeking Alpha). I have no business relationship with any company whose stock is mentioned in this article.