Aussie supermodel Elle Macpherson has decided to put her stunning Florida mansion on the market with a whopping USD $29 million ($40 million) asking price. 
Set in the sought after gated community of Journeys End Estates in Coral Gables, the exquisite abode is devastatingly arresting.
Spread over a generous 6920-square-metres of blue-chip real estate, the manicured grounds of this stunning mansion have been designed by renowned landscape architect Enzo Enea. 
READ MORE: Adelaide's most expensive home is jaw-dropping
The home itself, a gorgeous six-bedroom, six-and-a-half bathroom two-storey mansion, was completely refreshed in 2017 by notable Miami-based architect Chad Oppenheim. 
Speaking about her designing her stunning residence with Architectural Digest back in 2019, 'The Body' said: "This time, it wasn't about developing a million different schemes, with lots of custom-built furniture or profound investments, and then deciding which one to pursue."
"This feels more modern, adopting a sustainable approach to design—taking the best of what you already have and repurposing it for a new life."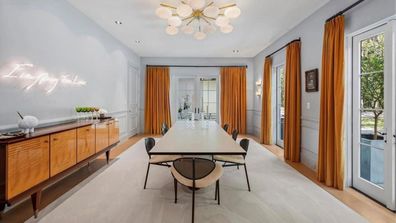 And, with the help of acclaimed interior designers Sawyer Berson, what Macpherson has been able to accomplish with the home is a minimalistic masterpiece. 
With an almost all-white colour palette, with the exception of one room in the house painted a striking shade of teal, the residence emphasises the grandeur of spaciousness. 
There's little decoration outside the 58-year-old's exceedingly cool art collection, which includes numerous pieces by luminaries such as Andy Warhol, Jean-Michel Basquiat and Damien Hirst.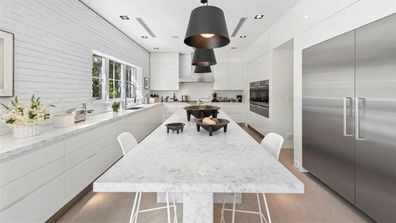 There are a myriad of other luxuries befitting a $40 million mansion in one of Florida's nicest locales. 
Benefits include a massive professional kitchen, a stunningly paired-back dining room with neon artwork by Tracey Emin and a giant master suite with two walk-in robes. 
Out in the elegant grounds, the property also boasts a large saltwater swimming pool and lounge area, established oak trees and even fruit-bearing lemon, orange, and mango trees.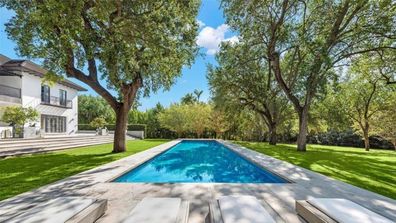 It's not known which platinum postcode the Supermodel and entrepreneur will be moving to next.