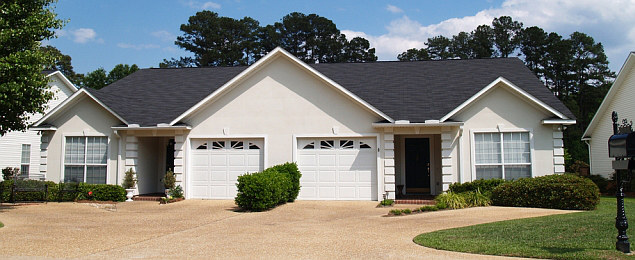 Duplex houses are homes that look like a normal home on the outside, but are actually separated on the inside into two different homes. These semi-detached houses typically have two doors on the outside and are used as a two family home – meaning that the home is split in a way that allows for two different families to live in the same home, which is why a duplex may also be referred to as a twin home.
Therefore, duplex foreclosures are duplex properties that have been acquired by the lender due to a failure to remain up-to-date on mortgage payments. Occasionally you can find duplex houses for sale that are also foreclosed homes and therefore can often be purchased well below market value (for a discount), making them great for those looking for a cheap two family house for sale. Furthermore, you can find duplex houses for sale in just about every region of the country.
Types of Duplex Foreclosures
There is a wide variety of foreclosed duplexes for sale; therefore, if you are looking to invest in two family homes for sale, it is essential for you to know the different terms that refer to the different types of duplexes.
Duplex Modular Homes: The term "modular home" refers to the method in which the home is built. This two-family home is built in sections, which are known as modules. The modules that are used to build the home are assembled at an external facility and are transported to the construction site. A modular home differs from a mobile home duplex in that modular homes do not have axles, and the modular duplexes must also meet all local building codes (which is not always true for a mobile home). These homes may also be made from different materials or placed on different foundations.
Duplex Mobile Homes: Duplex mobile homes are often referred to as duplex manufactured homes. These properties are typically built in a factory and are built to be mobile – hence the term "mobile homes". Although these properties may be put on a foundation (like modular homes), this is not always the case. Furthermore, unlike modular homes, manufactured homes have to typically only meet federal building codes and regulations as established by the Department of Housing and Urban Development.
Duplex Apartment: Also frequently referred to as a maisonette, a duplex apartment can refer to one of two things. First, an apartment that is beside another apartment – with a wall separating them. Second, a two-story home that has one apartment on the ground floor and another apartment on the top floor. It is important to note that there are only two "apartments" in the building, which is why it is called a duplex. These apartments have separate meters for gas, water, power, etc.
At the end of the day, a duplex home for sale is a home that is a twin house, meaning that the home in its current state is designed for two different families and has two different entrances (one for each family).
Although these duplexes may be modular homes or manufactured homes, that is not always the case. In fact, sometimes a home that was built as a single-family home may be converted into a duplex property. Either way, when you are looking to buy foreclosures, including duplexes for sale, it is essential that you understand how the property was built and assembled and you know what you are purchasing before you sign on the dotted line.
Are Duplexes and Multifamily Homes the Same?
In short, a duplex is a multi-family home; however, not all multi-family homes are duplexes. For example, if you are looking for multi-family home foreclosures, then you may find foreclosure duplexes, but you may also find homes that are designed for three or four families as well.  The key is to remember that multi-family foreclosures are not always duplexes, but duplexes are always multi-family homes.
What's the Difference Between Condos, Duplexes and Townhouses?
If you have been wondering what, exactly, is the difference between condos, duplexes, and townhouses, then you are definitely not alone. If you throw twin homes into the mix, these matters seem to become even more confusing. Below is a brief description of each of the types of homes to help you better understand the similarities and differences.
Condos: Condominiums are part of a complex with shared facilities, but units are owned by individuals. When you purchase a condo, you are not purchasing land, but simply the unit itself. Furthermore, you are always involved with the company that owns the entire facility. A duplex condo (also referred to as a duplex condominium) refers to two condos that share a similar structure (i.e. a wall). They may be side-by-side or on top of one another.
Duplexes: A duplex (also called a twin home) refers to a property that is a two family home; however, there is a variety of types of duplexes. For example, duplex apartments (sometimes called two flats) are often two stories with a staircase connecting the two units.  Similarly, a duplex may be a one story home that has been turned into a two-family home.
Townhouses: Townhouses most often refer to row houses – properties that are narrow (often two-stories) and are terraced. Most townhouses within the same row look very similar to one another.
Advantages of Investing in Duplex Foreclosures
Regardless of whether you are a buyer or an investor, there are many advantages of investing in foreclosed duplexes. Most importantly, you get two properties in one. Therefore, if you are a buyer you can live in one of the homes and rent out the other to assist with mortgage payments (or to simply put money in your pocket). If you are an investor, you can either rent out both units, or make minor renovations and then put the home back on the market for a profit.
If you are interested in purchasing cheap duplexes for living or investing purposes, start your search by checking out duplex property listings.
Is it Possible to Find a Half Duplex Foreclosure for Sale?
The short answer is "it depends". Sometimes duplexes have a single deed and therefore the property is owned by one person (or is co-owned). If this is the case, then the foreclosed duplex for sale will include the entire property – both units.
On the other hand, some duplexes have two separate deeds and therefore can be owned by two different people. In these cases, you can find a half-duplex house (also called a halfplex) for sale; however, what you are really looking at are two single family homes. In this case, it would be more accurately called a semi-detached home (two homes that share a common wall). 
Either way, it is essential to note that a half-duplex foreclosure is far less common than a full duplex property that has been foreclosed upon and is now up for sale.
Can I Buy a Foreclosed Duplex for Sale and Separate it in Condos?
The short answer is "maybe". If you are looking into duplex properties for sale with this intent in mind, then you should make sure it is possible to turn the property into condos before you buy. Although foreclosed duplexes for sale often sell below market value, you should make sure the property meets your need before signing on the dotted line. Similarly, if you have already purchased duplex real estate and are looking to turn the property into condos, it is essential that you understand where to start.
First, you will need to talk to your local zoning/planning board. There may be local regulations that prevent you from turning a duplex into condos. For example, some states may not allow you to turn a property 25 years old into condos, but may allow it for newly built homes. On the other hand, the process in other states may be simpler and cost around $2,000. Second, you will need to talk with a real estate lawyer, who can help you navigate the often confusing waters of turning duplexes into condos. Therefore, at the end of the day it really depends upon where the property is located, the property specifics, and local rules and regulations.