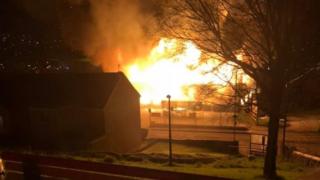 Seventy-five people have been evacuated from their homes after fire broke out at a garage and industrial units.
Firefighters tackled the blaze involving tyres and cylinders at Pentrechwyth, Swansea, after a callout at about 22:30 BST on Saturday.
A number of businesses were affected and 25 properties were evacuated as a precaution. No one needed hospital treatment.
One trader said she had "lost everything" in the fire.
"There is no coming back from this. We are devastated," said Rhiannon Haynes-Gibbs, who runs a furniture business at the complex.
Four other businesses had also been affected by the blaze, she said.
Ms Haynes-Gibbs added that people could be out of their homes for some time with electricity supplies affected in the street.
In a statement issued shortly after 12:00 BST on Sunday, South Wales Police said "a number" of residents had been allowed to return to their
…
Read More
Read more